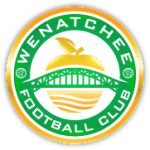 WENATCHEE, WA— Wenatchee FC of the Evergreen Premier League will play their final league match of the 2015 season on Sunday July 26 at 6 PM in Chelan at Sargent Field. This will be Wenatchee's first-ever match played in the city by the lake. Known as "The Capitals," Wenatchee FC will be hosting South Sound FC, a perennial power in the soccer league. WFC home fields at both the Apple Bowl and Wenatchee Valley Community College's Mike Hollis Field were unavailable to host the match, so the Capitals decided to come up to the lake.
"We are very excited to bring an Evergreen Premier League (EPLWA) match to Chelan," says WFC co-owner Javier Reyna. "We have players who call the area home. I am sure that Eleazar Galvan, a star for the Goats during his high school years, will be happy to return and play before family and friends."
Galvan is currently leading the statewide league in goals scored with eleven. He has been named Offensive Player of the Week in the EPLWA twice this season. Galvan was a leader on the 2013 Chelan High School WIAA State Champions team. Other local players on the Wenatchee roster include Julio Vera (Chelan), Olegario Orozco (Manson) and Edwin Tinoco (Brewster.)
Chelan High School Boys Soccer Head Coach Jamie Richards will also be on the sidelines. He is an assistant coach with Wenatchee FC.
Tickets to the match cost $5 for adults, ages 6-12 are $2. Ages 5 and under are free. Concessions will be sold at the match.
The Evergreen Premier League is a statewide league for elite adult male soccer players. The EPLWA has teams in Bellingham, Bremerton, Spokane, Yakima, Vancouver (WA), Tacoma and Seattle along with Wenatchee.
Visit Wenatchee FC online at www.WenatcheeFC.com and on Facebook at www.Facebook.com/WenatcheeFC.